A few weeks ago as I was doing some weekly meal prep and I had the television on as I cooked. Low and behold there was a Six Million Dollar Man marathon on. I know that I am giving away my age on this but who cares. I admit that as at child I loved this program. Watching it now it is so dated and hysterical but it was great, back in the day before all of our modern techno gadgets made us all bionic. It also reminded me of one of my favorite recipes by Lindsay Wagner (aka the Bionic Woman) or specifically from her book The High Road to Health (1990). My copy is worn from use.
This recipe is very adaptable and it is easy to double or triple based on the number of people serving … or freeze the cooked stacks for a quick easy prep dinner on a hectic weeknight in the future. The sauce is simple and tasty; use "no salt added" tomato products to reduce sodium. Fresh herbs can really turn up the flavor so add your favorites!
One of the things that I dislike about more traditional eggplant parmesan recipes (aside from the fact that they are fried) is the way it is served swimming in the sauce. I enjoy the tender crunch of this version and serve the sauce on the side for dipping. But you can certainly serve it in the more traditional way if you prefer. See, very adaptable!  Let me know what you think!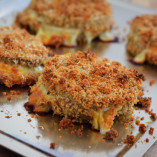 Adapted from recipe by Lindsay Wagner in High Road to Health
Servings

Prep Time

4

servings

1

hour
Servings

Prep Time

4

servings

1

hour
Adapted from recipe by Lindsay Wagner in High Road to Health

Servings

Prep Time

4

servings

1

hour

Servings

Prep Time

4

servings

1

hour
To make the sauce, cook the garlic in 2 TBS of olive oil in a large skillet until golden brown. Remove the garlic from the skillet and reserve.

Add the tomato paste to the skillet and cook over medium high heat for 3-5 minutes, stirring constantly. Add the canned tomatoes , breaking them apart. Add the water and bring to a boil. Add the reserved garlic, reduce the heat, cover and simmer for about 1 hour.

Optional: add fresh herbs of your choice in the last 30 minutes of cooking. Fresh basil, oregano or rosemary would be nice!
Peel the eggplant and slice into 1/8 inch slices. You will need 8 slices to make 4 servings.

Mix the whole wheat bread crumbs, Mrs Dash and black pepper in a flat bottom bowl or deep dish. Place the milk or milk egg combo (if you are using egg) in a separate bowl.

Put the eggplant slices (3 at a time) in a Ziploc bag with the whole wheat pastry flour and shake. Remove the slices one at a time, and shake off any excess flour.

Build your stacks: Place 1 slice of fresh mozzarella cheese (or nondairy alternative) between two floured eggplant slices. Dip the stack in the milk or milk egg combo and then dredge in seasoned breadcrumbs. Repeat with other eggplant slices.

Place stacks on greased cooking sheet. Bake at 350 for 30 minutes or until golden brown. Serve with sauce.
These stacks freeze very well and individual stacks can be pulled out of the freezer as needed and warmed in the oven for a quick dinner.